Linda Blair, Deputy Chief, FCC Enforcement Bureau (32kbps/22KHz MP3, 2:24, 562K)
Notable quotes/analysis:
"Here in Washington, we have worked closely with other federal agencies concerned with national security and emergency preparedness, and our field agents have helped insure interference-free radio operation for law enforcement and security personnel in venues across the country, including, most recently, the IMF protests here in Washington."
Let it be known that the FCC actively participates in the crackdown on dissent commonly found at events involving mass social protest.
Some suspect that the agency may be on hand in these situations to help conduct "active" operations (like the jamming of cell phones and other potential personal communication devices), but Blair's comment gives no indication of that. The FCC's presence at such events, though, leaves open the question.
"We have also enhanced our enforcement efforts by focusing more on situations where there are patterns of violations rather than isolated violations, and we have focused on taking more forfeiture actions in appropriate cases, rather than simply issuing warnings."
The trend toward an increasing use of financial penalties has already begun to show in our Enforcement Action Database. But just because the FCC is getting more "trigger-happy" with Notices of Apparent Liability and monetary forfeitures, its record of actually following through and collecting money from people is less than stellar. Two years ago, when the FCC's collection procedures were last audited, the agency collected only $1 out of every $4 in penalties it issued.
"In the last three years we shut down a total of approximately 460 pirate stations. While many of these stations cease operating following an inspection and warning, we also work cooperatively with U.S. Attorney's offices around the country to seize equipment, or, in particularly difficult cases, to prosecute criminally."
The number of stations claimed to have been shut down is presented quite cleverly. Blair cites 460 stations closed in the last three years (from November 1999 to the present). There is a significant problem with this statement, as it does not fit with previously-released FCC figures on pirate radio enforcement.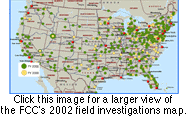 In the Enforcement Bureau's Year One Progress Report, which covers the time period between November, 1999 and November, 2000, it claims to have silenced "over 180" unlicensed stations.
In July, a Radio World report on pirate activity cited an FCC statement that it had closed 300 unlicensed stations "in the last 18 months" – defined as the period between November, 2000 and May, 2002. Adding these two figures produces 480 FCC enforcement actions against pirate stations. This total doesn't even factor in those enforcement actions conducted between May and the present, of which there were at least an additional 13 that we know of.
Either the FCC's Blair did some bad math or the Enforcement Bureau's unlicensed broadcasting battles are woefully under-documented and subject to revision to fit the needs of its audience. Seeing as how the FCC's claims of enforcement activity against pirate radio have always seemed inflated, the chances of Blair's figure being a fabrication are high.
Unfortunately, this does not make it any easier to actually track the FCC's enforcement behavior. It only shows that it's prone to fudge numbers to suit its institutional needs.
"In addition to protecting the integrity of licensed broadcast operations, this work, like our cable signal leakage work, prevents interference to FAA air traffic control frequencies."
Many in the microradio movement thought that the myth of unlicensed broadcasters causing "airplanes to fall from the sky" was debunked years ago, as a review of FCC records finds only one case of a pirate interfering with aviation frequencies in the last 12 years. Licensed, full-power FM stations are much more of a problem in this regard. Yet Blair lets the specter hang out there once again, proving that some things about the FCC never change.