It's been a busy month for FCC field agents and Federal Marshals in the Northeast. Last week they raided and seized the equipment of three unlicensed radio stations in the Boston area, while two weeks prior they took down four pirate stations in New York City.
The Boston raids netted a long-time pirate who operated way out in the open. TOUCH FM, founded by long-time and well-respected community activist Charles Clemons, had been on the air for eight years. Clemons was also quite engaged in the movement to expand low-power FM radio and even ran for mayor of Boston last year. He's been on the FCC's radar since 2007, when he was first visited and warned; the agency followed up with a $17,000 fine in 2008, which was never paid.
The reverberations of TOUCH's bust were impressive. Massachusetts Governor Deval Patrick even attempted to intervene to stop the raid, but was unsuccessful. Many other state and local officials are pledging to do whatever they can to get TOUCH FM back on the air in a legal fashion, but the sad fact is there are no open LPFM frequencies in that area of Boston.
Little is known about the other two stations taken down in the Boston suburbs.
The raids in New York were the culmination of nearly two years of sleuthing. The four stations apparently operated in pairs; all broadcast a variety of Spanish-language music formats; most of them were not 24/7 operations, on-air primarily at night. The FCC believes that at least one (perhaps more) of the stations were part of a network of Latin music pirates operating throughout New York, New Jersey, and Pennsylvania.
All four stations apparently transmitted out of the same high-rise apartment complex in the Washington Heights neighborhood of Manhattan, while their studio facilities were located in the Bronx, using the Internet as a studio-to-transmitter link. At least one of them was the subject of a complaint about causing interference to an FM translator chain, possibly leading to the pirate's inadvertent rebroadcast.
What's particularly fascinating in the New York busts is the fact that the U.S. Attorney overseeing the seizures unsealed the investigation files, giving a rare glimpse into the tools and tactics field agents utilize in their work. The two documents contain 100+ pages of goodies about the scope and severity of serious pirate-hunts.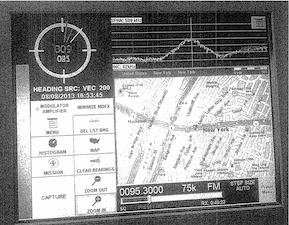 In addition to running down building owners, vehicle registrations, and website/social media profiles, agents take photos of their targets, make recordings of station programming, and subpoena records from phone companies (Vonage, in this case) in order to obtain identifying information on station operators.
In the field, they use a cluster of measurements to determine a pirate station's precise location and transmitting power, down to the tenth of a meter and tenth of a decibel respectively. Their field vehicles (the unsealed files include make and model of approved field-strength meters) integrate this information into a unified display (right) providing all the essentials necessary to start the enforcement protocol in earnest.
Only federal officials appear to be involved in both sweeps. This is interesting because the state of New York has its own anti-pirate law on the books, which makes unlicensed broadcasting a misdemeanor, and there's no word if the principals behind those stations will face further prosecution. The Massachusetts state legislature is currently debating a similar bill, which would impose stiff fines on pirates and allow licensed broadcasters to sue their pants off.
Radio Survivor's Paul Riismandel wonders if these actions are part of some coordinated effort "timed with the ongoing approval of LPFMs in order to demonstrate to the broadcast industry that the Commission isn't going light on enforcement, and that it isn't deaf to the industry's concerns." This could very well be true, though the most egregious violators are also the easiest pickings, and many of these cases have been pending for years.
With all this action, I updated the Enforcement Action Database to see if these sweeps have any nationwide implications. The answer is no: in fact, with activity reported in seven states so far this year, the aggregate rate of enforcement activity is actually running behind the norms of the last couple of years. It's almost as if mustering the energy to make high-profile busts in two of the nation's most notorious pirate hot-spots sapped it away from other areas of the country, or something.
Here on the Midwood/Flatbush border in Brooklyn, a cursory FM bandscan brings 16 pirate stations, the majority of which offer a smorgasbord of Caribbean music and religious programming. That's the most I've ever picked up at once, and pretty compelling evidence that the recent high-profile activity uptown has not reverberated at all just 15 miles away.