The FCC has now conducted more enforcement actions against unlicensed AM and FM stations in the first half of 2006 than it did in the entirety of 2005, which broke all previous records for cat-and-mouse action. However, this milestone was reached by a bit of paperwork puffery on the part of the FCC. For example, as field agents hunted recent activity on San Francisco Liberation Radio's old frequency (93.7), they sent warning letters to two people and the owner/manager of the building they apparently live in. In the recent past, tagging one would have sufficed.
This year the FCC also broke its drought of issuing forfeiture (fine) notices to pirate stations. Four people have been presented with $10,000 government invoices so far this year, compared with none in 2005. Each case took at least a year to reach that level of escalation, and based on the FCC's prior collection history, it will be lucky if it actually sees dough from half of them.
A few people have also received Notices of Apparent Liability ("pre-fines"); the latest was issued to a man in Florida this month, a year to the day that the FCC opened up its case. Interestingly, although the local police were heavily involved in the proceedings, the authorities elected to go the FCC route instead of with a state felony charge.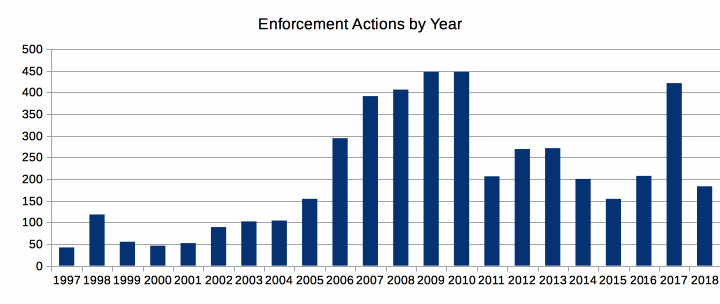 To me, the longer view is most interesting. The graph at right represents my count of the number of enforcement actions the FCC has conducted against unlicensed AM/FM/SW broadcasters every year, since 1997.
Note the wave that begins to grow in 2002. The FCC proposed licensed, low-power FM radio in 1999, considered it in 2000, and formally began implementing the service in 2001-02.
The National Association of Broadcasters formally declared war on microbroadcasting on January 12, 1998, which explains the spike that year. The lull of the next three years was a political gesture. Once LPFM stations started to take to the air, the heat was turned back up.
But I do not believe this fully explains the spike in enforcement actions. In 2004, the FCC hit about 30-40 stations with 92 total enforcement actions. 70-80 stations were on the FCC's radar in 2005, when it served up 143. This year, the number of affected stations is already well north of 50. Thus it would appear the number of stations is growing, in rough proportion to the number of enforcement actions taken by the FCC. The administrative inflation, which began last year, bears further watching.
The important conclusion seems to be that LPFM did little, if anything, to satiate the public demand for increased access to the airwaves. It certainly piqued a lot of interest in microbroadcasting, and perhaps made many realize just how easy it is to do, with permission or not.