As the graph to the right shows, the agency's Enforcement Bureau is well on pace to meet or exceed last year's record-breaking enforcement action effort.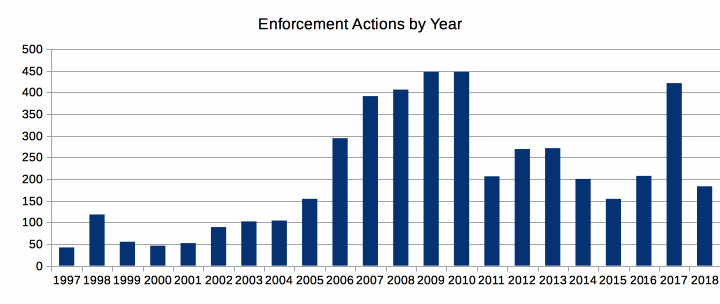 Looking more closely at the data, one can see how FCC field agents are escalating the initial levels of the enforcement protocol much more quickly now (for example, the New York field office has cut the time between visit to warning letter down to as little as eight days).
Nevertheless, the FCC's not keeping such a good record when it comes to excersising actual muscle to shut pirate stations down: the number of Notices of Apparent Liability and actual forfeitures issued appears relatively unchanged from last year, and these actions remain but a small fraction of the Enforcement Bureau's overall enforcement effort. The number of raids/seizures conducted against pirate stations may edge up this year, but this is due to state-level enforcement efforts, most notably in Florida, where unlicensed broadcasting has been criminalized as a felony.
As far as what happens during the last three months of the year, it's anyone's guess: historically-speaking, there's a tertiary spike in enforcement actions against unlicensed radio stations in November, and it will be interesting to see whether this trend continues. Nevertheless, it's safe to say the agency's still a paper tiger, as unlicensed microbroadcast activity continues to blossom, especially in the nation's largest urban areas. However, recent developments, like the Enforcement Bureau's new online pirate complaint form and the possible installation of an anti-pirate attorney general, may change the game, but it's too early to tell by how much.