It's been a busy year for the Federal Communications Commission: leadership changes, shutdowns and sequesters, and increased pressure from Congress and its core industry-constituents to "modernize" itself.
A goodly portion of the latter is happening on the agency's web site. With little fanfare earlier this year, the FCC rolled out a "Maps" section which visualizes various aspects of agency business, including FCC Enforcement Actions Against Pirate Radio By Location.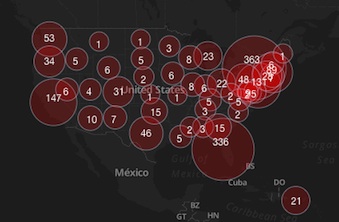 It's a pretty map, visualizing agency enforcement actions across the country, including breakdowns of several types of enforcement action (warning letters, Notices of Apparent Liability, and Forfeiture Notices). It also catalogs the dollar amount of fines issued by state, but there's no way to know if these numbers take into consideration the practice of decreasing or canceling fines upon demonstration of an inability to pay.
The FCC's map is also not as robust as our Enforcement Action Database: the agency's data only goes back to 2003 and does not contain more granular points, such as the number of visits field agents make to pirate stations.
Furthermore, the FCC's map includes all aspects of unlicensed radio operation, including CB, amateur radio, and marine/aviation frequencies, while my own database focuses explicitly on unlicensed broadcasting (AM, FM, and shortwave).
It's nice to see the FCC crunching some numbers on this front—and dabbling in data visualization more broadly—but even their snapshot doesn't necessarily connote any particular degree of efficacy.