The austerity gripping the United States caught up with the FCC's Enforcement Bureau last year, as field activity against unlicensed broadcasters dropped dramatically – to a level not seen in six years.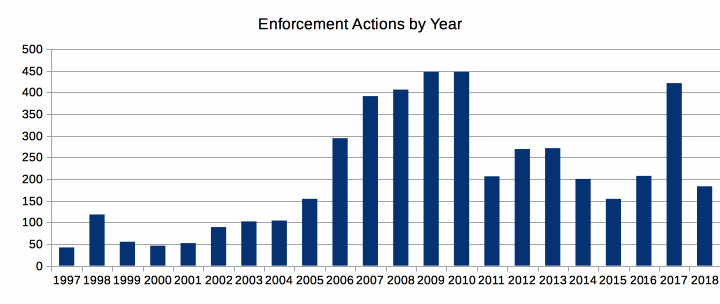 From a record high of 447 enforcement actions clocked in 2009 and 2010, field agents executed just 184 in 2011, against fewer than 100 stations total. Massive drops were seen in the number of station-visits and warning letters issued.
Although the 2011 stats will rise slightly after the FCC discloses its activity for the last two weeks of the year, the activity-crash is unmistakable.
On the fiscal penalty front, the FCC issued 18 Notices of Apparent Liability and nine Forfeiture Orders in 2011, ringing up $168,400 in actual fines handed out. This actually represents an uptick from previous years; the agency hasn't been this fiscally punitive since 2005 – the year its field enforcement "surge" began.
Whether these fines are actually collected is another matter entirely. In addition, plumbing the numbers reveals interesting subtleties, such as the fact that the FCC resolved nearly half of its fiscal attacks last year for a pittance. In Florida alone, a $20,000 NAL was knocked down to $500; a $15k NAL settled for $300; and two $10,000 NALs were squabbled to $250 and $350 respectively.
Geographically speaking, the perennial hotbeds of unlicensed broadcasting were well-represented, though California stole the #2 spot from New York – extremely illustrative of the collapse in field activity. The FCC made contact with pirate radio stations in two dozen states and Puerto Rico.
What the FCC failed to make up for in quantity it slightly redeemed in quality. This year's enforcement activity touched many long-standing members of the microradio movement. Stations that have been on the air for more than a decade, such as Free Radio Olympia, Berkeley Liberation Radio, Free Radio Santa Cruz, and Mbanna Kantako's Human Rights Radio, received pesky visits and letters from FCC agents, though all shrugged them off.
Enforcement against AM and shortwave broadcasters is also on the rise – this is most likely due to an increase in activity on these bands rather than a change in FCC priorities regarding unlicensed broadcasting. Nearly 10% of 2011's field enforcement activity was directed at AM and shortwave pirates – the highest yearly percentage in the Enforcement Action Database's 15-year history. In perspective, however, the relative risk remains small on those bands: just eight AM/SW stations were harassed last year, the majority of them on the expanded AM band.
It's been ten years since the FCC first promulgated the LPFM service, and eight since the first LPFM station took to the airwaves. For most of this period, the agency's enforcement strategy against pirate broadcasters has been administratively heavy, with field agents often taking a day-trip (or two) every month (or two) to track down radio pirates for the purposes of scaring them with paperwork. But the paper tiger obviously has better things to do, and what power it could bring to bear on the "pirate problem" seems to be in decline.